Le Groupe
25 years of experience at your service !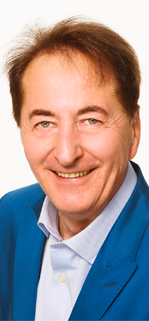 Raymond Larivière
Courtier immobilier agréé


Raymond Larivière began his career as a Real Estate Agent in 1995. His dedication and perseverance make him a respected broker and consultant with a base of loyal and diverse customers.
In addition to mastering the brokerage profession, he knows the City of Montreal very well, its potential and in particular, his neighbourhood "Le Plateau" - where he lives and the location of the Groupe LaRivière's headquarters.
Besides his abilities as a negotiator, Raymond has a vast experience in the construction area. Indeed, he has renovated buildings and apartments, and has been involved as a real estate promoter since 1999. His experience and knowledge in both construction and renovations make him a trusty, productive and prolific Realtor.
Raymond is a well known listing specialist and an exceptional seller. The increasing volume of his customers and transactions has motivated him to create his own banner, Groupe LaRivière, in order to continue responding to the expectations and growing demands of the everyday Real Estate Market.
---
Gabriela López Mijares
Courtier immobilier affiliée


Gabriela López Mijares is Raymond Larivière's associate real estate broker and business partner. Gabriela has worked as a Realtor since 2004. She coordinates the Groupe LaRivière's selling activities while managing files with buyers who come from around the world.
Furthermore, Gabriela assumes the planning of Open Houses and updating the Groupe's selling and marketing strategies.
Her experience as a radio announcer and Media Anchor in her country, Venezuela, and in Montreal's radio targeting the Spanish community, in addition to her being proficient in 4 languages (English, Franch, Italian and Spanish, her mother tongue) makes Gabriela the ideal person to keep the kink with our foreign customers.
In 2007, Gabriela gets her accreditation as Home Stager Specialist. This certificate adds to her profile of competence and confirms the value of the contribution to the Groupe LaRivière. This tool is a valuable resource for marketing new listing properties (www.myimmostaging.com)
---
El equipo
Cuando usted hace negocios con uno de nosotros, todo el equipo trabaja para usted
Raymond Larivière comienza su carrera como Corredor Inmobiliario en 1995. Su perseverancia y constancia lo hacen un Consultor y Asesor Inmobiliario respetado, con una clientela fiel y hetérogenea.
Además del dominio de su profesión como Corredor Inmobiliario, es un gran conocedor del potencial de la ciudad de Montréal, en particular del Plateau Mont-Royal, vecindario donde vive y trabaja desde hace más de 15 años.
A la par de sus grandes habilidades como negociador, Raymond posee una vasta experiencia en el campo de la construcción, tanto en lo que concierne a la renovación de edificios y apartamentos como a titulo de Promotor Inmobiliario. Esta experiencia, sumada a sus competencias como Corredor de Bienes Raices, hacen de él un asesor creible y prolifico; experiencia esta que pone a la disposición de sus clientes tanto vendedores, como compradores.
Raymond Larivière es conocido como un inscriptor especializado y vendedor fuera de serie. El volumen creciente de su clientela y de sus transacciones, son el motivo por el cual decide crear un equipo de Corredores Inmobiliarios dinámicos con el fin de responder a las demandas y expectativas del cada vez más creciente Mercado Inmobiliario. Es así como desde el 2004, comienza a rodearse de personas talentosas para constituir un equipo de asesores competentes y polifacéticos.
---
La primera persona que lo siguió en esta aventura es su compañera y asociada Gabriela López Mijares, quien trabaja a titulo de Corredora Inmobiliaria desde el 2004. Ella coordina las actividades de venta en el seno del equipo, al mismo tiempo que gestiona los expedientes de sus clientes compradores que vienen de todos los rincones del mundo.
Implementar las estrategias de venta y mercadeo, y estructurar las Relaciones Publicas del equipo, forma parte de sus tareas. Igualmente, Gabriela asume la planificación de las Visitas libres y Caravanas, así como las guardias de todos los miembros del equipo.
Su experiencia como Comunicadora y Animadora de radio en Venezuela y en Montréal, así como su dominio de varios idiomas (Inglés, Francés, Italiano y Español, su lengua materna) hacen de Gabriela la persona ideal para mantener el vínculo con nuestros clientes extranjeros.
En el 2007, Gabriela obtiene su acreditación a titulo de Especialista en Home Staging (valorización de las propriedades) formación que enriquece su perfil de competencias y confirma el valor de su contribución al seno del equipo; preparación esta que pone a la disposición de sus clientes vendedores a la hora de la venta y mercadeo de sus propriedades. (www.myimmostaging.com)
Quand vous faites affaires avec un des coéquipiers, en réalité, c'est toute l'équipe qui travaille pour vous!